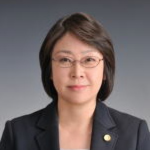 Biography
Masako Kato was admitted to the bar in 2012. Ms. Kato has experiences in organizing international conferences and translating English written books or research papers, which allows her English communication with the clients.
Ms. Kato has profound interests in children's rights and welfare, especially child abuse cases, "ijime" (bulling), and other troubles children meet at school.
Since joining Kuretake Law Office, Ms. Kato handled domestic family cases (divorce, child custody, visitation, asset division etc.), landlord-tenant issues and other civil law cases.
Ms. Kato is willing to provide legal assistance to foreign residents in Japan, particularly those struggling with family law problems.
Membership / Activities
Tokyo Bar Association
Japan Society for the Prevention of Child Abuse and Neglect
Special Committee on children's rights and Juvenile Act, Tokyo Bar Association
Lawyers' Network for Foreigners (LNF)
Education
B.A. Sophia University(1986)
Graduate Law School, Meiji University(2011)